Songs For The Climate
Wednesday, September 7, 2022 @ 5:00 pm

-

9:30 pm

$10.00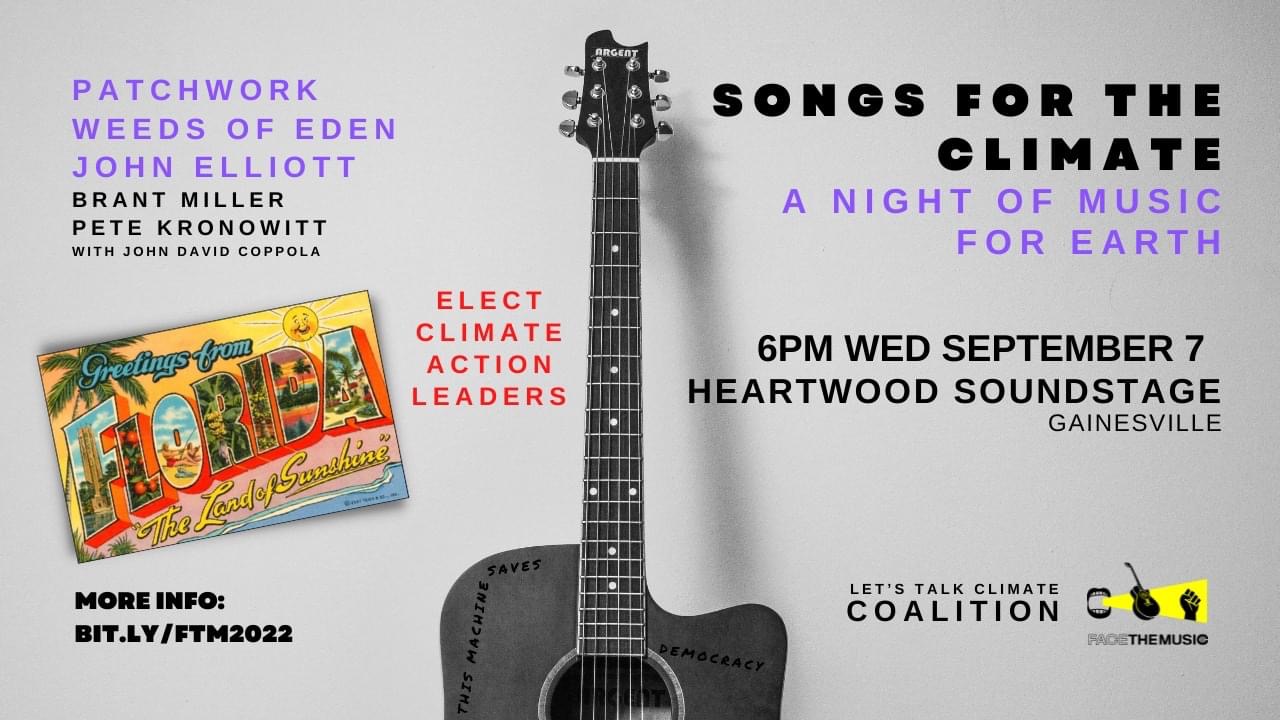 Our little blue dot is getting hot. We will be singing some tunes and joining with a great group of do-gooders to help keep cool.
Have a friend who complains? Here's a chance to keep them sane!
We will listen to some music, hear from a few folks who will suggest ways we can help.
https://www.facebook.com/LetsTalkClimateFlorida
Performances from John Elliott, Patchwork, The Weeds of Eden, Brant Miller and Pete Kronowitt.
We'll have special guests at the event to help you get involved.
IMPORTANT NOTE: This event will be indoors. To attend this event we ask for you to be vaccinated, if possible, and to wear a mask when not eating/drinking. If you're someone who lives with a person who is ineligible for vaccination or who is immunocompromised, consider skipping the event.
John Elliott is inspired equally by Bruce Springsteen and Eminem; Bob Dylan and Guns N' Roses; Tom Petty and Queen. Born in Minnesota, John made his home in California and has been releasing albums and performing in every type of venue you can imagine for twenty years. John remains an independent artist and he is proud of that fact. His songs have been prominently heard on Grey's Anatomy, One Tree Hill, and Californication. He has been featured in PASTE Magazine, NPR, Grammy.com, and Neil Young's "Living With War" website. He releases a monthly podcast called Audiodes and really loves to ride his bike. He continues to make a living and build a dedicated following the old fashioned way: one new believer at a time.
https://www.thehereafterishere.com
Comprised of some of Gainesville's finest female musicians, Patchwork includes national and international award winning songwriters and players. For 30 years these bluegrass flavored folkies have lent their talents to many a mission-based non-profit, writing and singing about the environment, peace and humanity while bringing a spirit of fun and camaraderie to any event, along with their stellar harmonies.
www.patchwork.us
Since 1994, The Weeds of Eden have performed in the North Central Florida area including arrangements of electric guitar, keyboard, bass, flute, violin, drums, and vocal harmonies interspersing instrumental jams. They cover a broad set of styles, including traditional, folk, R&B, Celtic, seasonal, rock and blues, Cowboy and Filthy Pirate songs.
theweedsofeden.com
Brant Miller
Brant Miller's new CD, "Roots, Rhymes & Branches," brings to fruition a lifetime of musicality fused with commitment to environmental and social causes, with his timely song "Where Now America?" reaching #12 on the International Folk Radio Charts. Brant, a retired Forester, is an eight-time winner/finalist in the Chris Austin Songwriting Contest, and now makes music full time, along with political and environmental activism. www.brantmillermusic.com
Pete Kronowitt
If Steve Earle and Elvis Costello got pissed enough to write political tunes, they would sound like Pete Kronowitt songs. With 5 albums, Pete combines performing and activism. Pete's new album, Do Something Now, was released in September 2020.
"Do Something Now … minces no words in telling listeners to "get off your ass," is downright bouncy with a catchy earworm chorus." -antiMusic, October 2020
Want to check out a few tunes?
Here's a video: Roly Poly

Here's recommended playlists:
Spotify: https://open.spotify.com/playlist/1G4HdvrF6FnzLQPQQNLa2m…
SoundCloud: https://soundcloud.com/troub-1/sets/some-favorites-of-my-own