Day 1 – The Jackson Square All Stars: New Orleans Street Music Comes to Heartwood!
Friday, March 2, 2018 @ 8:00 pm

-

11:00 pm

$15 – $25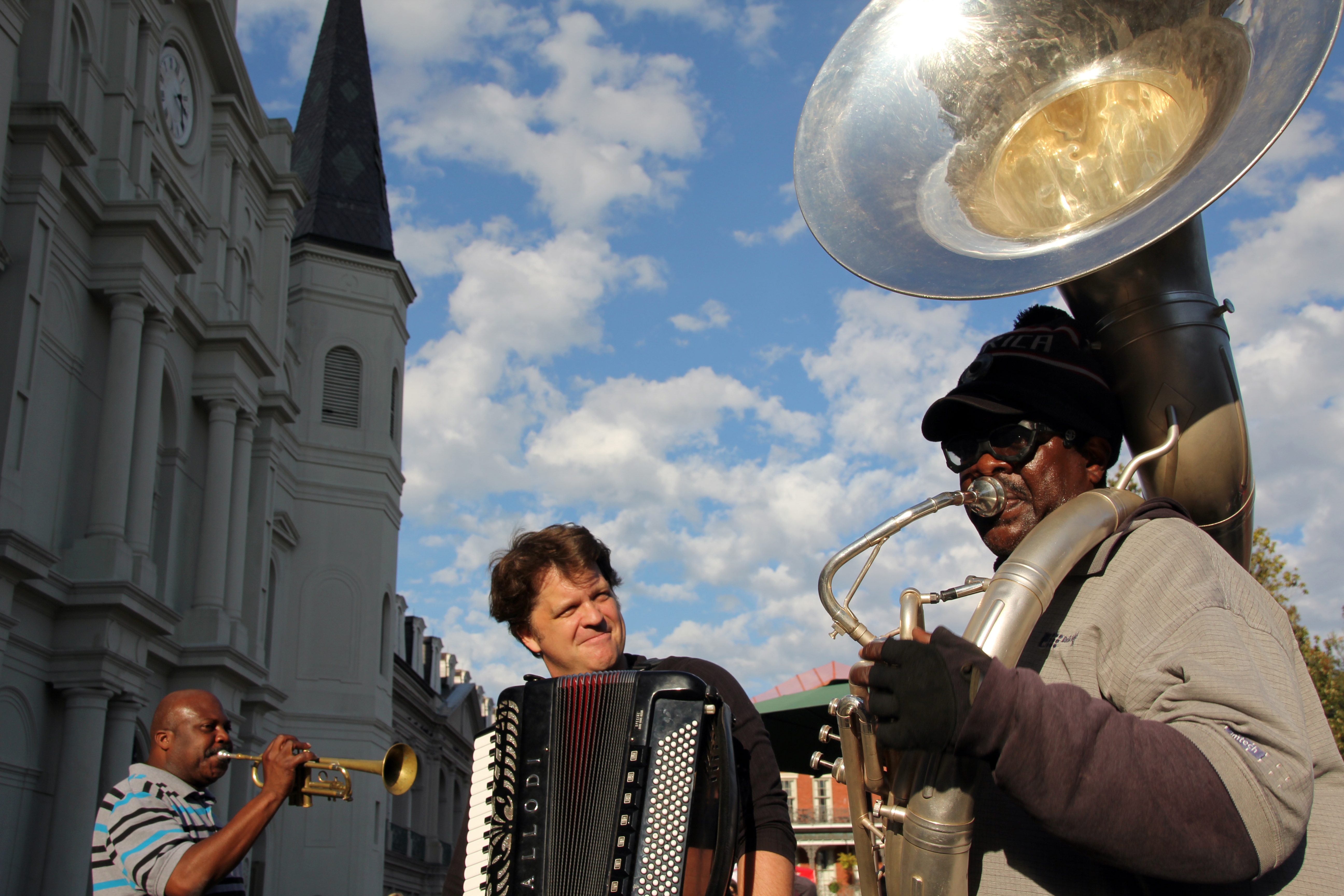 Laissez les bons temps rouler!
Come early (as early as 6 pm) for some delicious New Orleans food from Off the Griddle Food Truck. Bar opens early so get in the mood for this great show!
The roots of jazz and blues lead straight to the Big Easy, a melting pot of cultures and influences that has spawned some of the greatest music ever made.
Now, thanks to acclaimed accordionist and former Gainesville resident Michael Ward-Bergeman, Gainesville is in for an intimate concert by 10 great New Orleans musicians. Join us Friday and Saturday, March 2 and 3, at 8 pm for unforgettable classic jazz, featuring these fabulous players:
Saxophonist ELLIOTT "STACKMAN" CALLIER has spent his life collaborating with great musicians like Ray Charles, Fats Domino and Dr. John, to name but a few.
RICKEY PAULIN (vocal and clarinet) is part of the very fabric of New Orleans. The son of jazz pioneer Doc Paulin, Rickey grew up immersed in the New Orleans tradition of music making and has taken his music all over the world.
Born in New Orleans, trumpeter KENNETH TERRY is the protégé of legendary jazz musician Milton Batiste. Kenneth has appeared in numerous magazines, books, television and film. He was featured on the HBO series Tremé. He was a founding member of the New Birth Brass Band and the original leader of the Junior Olympia Brass Band.
From the Sixth Ward of New Orleans, trumpeter and singer DWAYNE BURNS heard the magic of trumpet virtuoso Thomas Jefferson and was hooked for life. Dwayne is a standout in the New Orleans' brass band scene, playing with groups like the New Birth, the Tremé, the Doc Paulin Brass Band, the Olympia Brass Band, and legendary New Orleans jazz musician Danny Barker.
MARK "TUBA" SMITH was born in 1959 and began playing music in 1972. He began performing with the Pinstripe Brass Band in 1976 spent the 80s touring the world with them, on the same bill as James Brown, Oscar Peterson and Al Jarreau.
REGINALD STEWARD grew up in New Orleans playing all the instruments of the brass family as well as the clarinet. He finally settled on the trombone when he began touring internationally as an original member of the Rebirth Brass Band.
MALCOLM MORRIS on bass drum is the heartbeat of New Orleans. He was born and raised in the Tremé of New Orleans. His musical mission is to put smiles on people's faces.
Drummer DEWON "ITCHY" SCOTT has toured the globe, performing with New Orleans artists such as the New Birth, Lil' Rascals and Tremé Brass Bands, and clarinetist Doreen Ketchens.
Originally from Milwaukee, guitarist PAUL KEMNITZ has been making music with his guitar on the streets of New Orleans for well over twenty-five years. His musical experience in the Crescent City includes many years of performing with Tuba Fats in Jackson Square and with clarinetist Doreen Ketchens on Royal Street. Paul has performed on stages and street corners throughout the United States and Europe.
Berklee grad MICHAEL WARD-BERGEMAN is a passionate performer, songwriter and composer who has performed extensively throughout the United States, South America and Europe. On accordion, Mr. Ward-Bergeman has performed as a soloist alongside Yo-Yo Ma, Dawn Upshaw, many of the major orchestras of the United States, performing at Harvard University, Oberlin Conservatory, and even an international TED conference. He was a featured performere on the PBS television program Live from Lincoln Center with the NY Philharmonic. His compositions have been commissioned by Carnegie Hall, Yo-Yo Ma's Silk Road Ensemble and others.  Most recently, his arrangement and performance of St. James Infirmary with Yo-Yo Ma and the Silk Road Ensemble appeared on their 2016 Grammy award winning album, Sing Me Home.  Michael is known to Gainesville music lovers for his occasional appearances at Leonardo's 706 with Marty Liquori's band.
photo courtesy Joanne Drummond