Heartwood Production Classes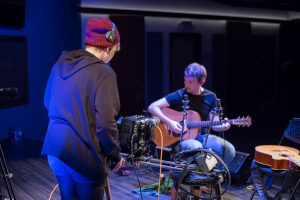 Heartwood Soundstage now offers certifications in both Audio and Video Production. Now, you have the opportunity to learn everything you've ever wanted to learn about Audio or Video on Heartwood's state-of-the-art professional production equipment, from seasoned professionals and experienced educators. Whether you're brand new to production, or you've been working with Audio or Video for years and are looking to fill in some gaps, these courses are designed to take your production skills to the next level. Our curriculum begins at the basics before diving deep into complex technical and artistic concepts, providing students with both breadth and depth of production knowledge. Both the eight-week Audio and Video courses can be taken concurrently, and will prepare students to be competent professionals in the fields of Audio and Video.
Each course is comprised of eight, weekly, two-hour classes held at Heartwood Soundstage. Each class will include both a one-hour lecture explaining a specific topic, and one hour of interactive, hands-on learning covering the topics explained in the lecture. The students will then also be encouraged to volunteer for Heartwood's monthly Creators' Night series, which allows Audio and Video students to participate in a full-fledged concert production featuring the region's best musical talent.
The cost of each eight-week course is $500, and our first class will begin Tuesday, June 12, 2018. If you're interested in taking both the Audio and Video courses, may choose to register for both classes at a total price of $1000. You will receive your Heartwood Production Certification after achieving a passing score on the corresponding Heartwood Certification Exam.