Heartwood Presents: Ghost-Note & Electric Kif
Friday February 15 @ 8:00 pm

-

11:00 pm

$15 – $25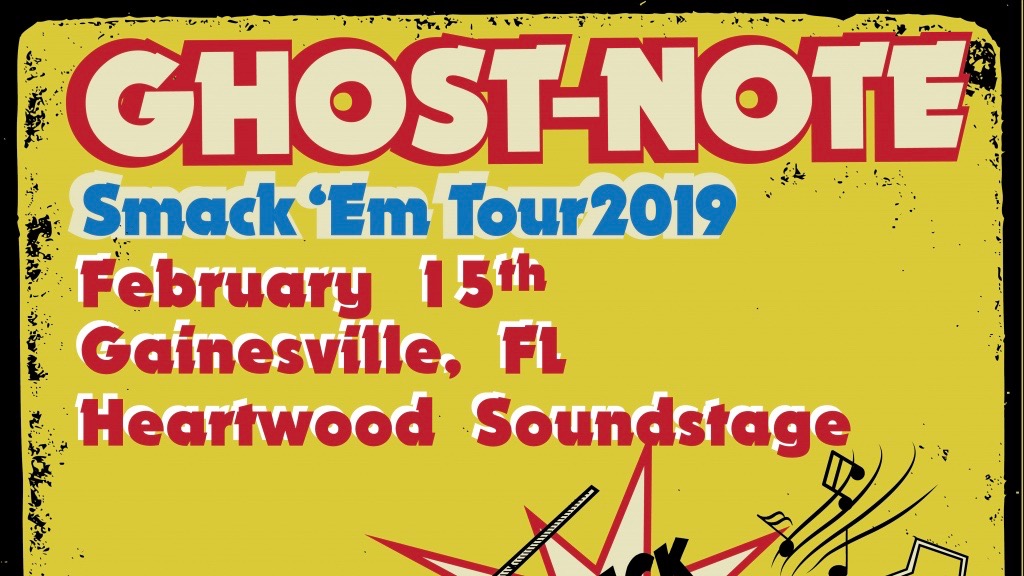 Tickets are not available as this event has passed.
Ghost-Note
Headed by Snarky Puppy's multi-Grammy–winning percussion duo of Robert "Sput" Searight and Nate Werth, Ghost-Note is an explosion of sound. With an expansive roster of next-level musicians—representing members of Prince, Snoop Dogg, Erykah Badu, Herbie Hancock, Kendrick Lamar, Marcus Miller, Toto, Justin Timberlake, and more—the band is pushing funk music into the future, building on the uplifting, pioneering foundations laid out by the likes of James Brown and Sly & The Family Stone and infusing their fresh take with tastes of afrobeat, hip-hop, psychedelia, world folklore, and more.
With the release of 2018's Swagism, Ghost-Note has made their mission clear. The album puts rhythm at the forefront, with irresistible, heavy-hitting beats underlying the group's wild, rich music. Featuring numerous guest collaborators, including Kamasi Washington, Karl Denson, Bobby Sparks, Nigel Hall, Taz, and others, Swagism showcases the band's stunning ability to meld and amplify sounds, ultimately adding to Ghost-Note's sharp, complex collaborations.
Fearless, both in Swagism's sonic depth and conscious social commentary, the band easily translates this adventurousness in a live setting. Ghost-Note's live performances are bold and in your face, with the group offering up none of the tight-laced pretenses frequently associated with the band's jazz roots. Focused on creating seductive danceable grooves and a contagious feel-good energy, each show is an opportunity to let loose and connect, for both fans and the musicians alike.
After forming in 2015, Ghost-Note has already begun to take the world by storm. The group's two studio albums—2018's Swagism and 2015's Fortified—have earned critical acclaim and popular success around the globe, with both albums hitting the #1 spot on the iTunes jazz charts. Furthermore, the ever-growing family of musicians has mounted successful headlining tours in the United States, Canada, and Japan and performed at high-profile international music festivals and events.
BAND MEMBERS INCLUDE: 

Robert "Sput" Searight (Snarky Puppy, Herbie Hancock, Kendrick Lamar) – drums

Nate Werth (Snarky Puppy) – percussion

Dwayne "MonoNeon" Thomas (Prince) – bass, guitar

A.J. Brown (Snoop Dogg, Fred Hammond) – bass

Sylvester Onyejiaka (Prince, Quantic) – baritone sax, tenor sax, flute

Dominique Xavier Taplin (Prince, Toto) – keyboards

Jonathan Mones (Funky Knuckles, RC & The Gritz) – alto sax, flute

Mike Jelani Brooks (Kirk Franklin, RC & The Gritz) – tenor saxophone, flute

ROTATING CAST INCLUDES:

Vaughn "V.Keys" Henry – keyboards

DOMi Degalle – keyboards

Justin Stanton (Snarky Puppy) – keyboards

Daniel Jones (Jay-Z, Janet Jackson, Justin Timberlake) – keyboards

Nick Werth (Galaxe, Yak Attack) – xylosynth

Peter Knudsen – guitar

Cody Wright (Eric Gales) – bass

Jon Jon Webb (Rihanna, Ledisi, Beyoncé) – bass

Ben Burget – saxophone

Alvin Ford Jr. (Pretty Lights, Dumpstaphunk) – drums

Devon "Stixx" Taylor (Justin Bieber) – drums

Cleon Edwards (Erykah Badu) – drums
Electric Kif
"Hailing from Miami, Electric Kif and their undeniable spunk has caught the attention of music lovers through their execution of cosmic funk, rock, soul, and jazz. Their taste and talent bring an unparalleled energy and sound to the stage that inevitably creates a uniquely raw experience through every performance." – Live for Live Music
Electric Kif  are a band who came together to perform music as an outlet in between sideman and session gigs with other artists ranging from Matt Schofield to Flo Rida…and many more in between. After a couple of years of  hosting these well known jams in Miami, with numerous talented guest musicians joining them, the members realized their original music was taking its own form and getting a great response from those who heard it. They decided to write more, record again, and  perform more of the KIF material.
The band come together creatively from very different backgrounds. Eric Escanes on guitar is from Bordeaux, France, Rodrigo Zambrano on bass is from Mexico City, Jason Matthewson keys proudly hails from Philadelphia, and Armando Lopez on drums from Miami.  Their training and experience combined was bound to generate something special…but their energy and dedication has taken Electric Kif to another level.  Following a performance at one of the festivals, they looked at each other and knew Electric Kif was their calling.  Fast forward to 2016… the band had new recordings under way, started playing outside of Miami, and shifted their focus to launch Electric Kif nationally.
Armed with their latest record, Heist, which was recorded, produced by the quartet in their home studio, and mixed at City Of Progress Studio in North Miami, they are thrilled to release this music with distribution partners La Reserve Records. "La Reserve is proud to have partnered with Electric Kif this year.  As a new company focused on the music of tomorrow, sourcing and curating the most cutting edge arts from around the world – Electric Kif was a perfect fit with our vision" says Greg Mathews, founder of La Reserve.
The Kif have performed with national acts such as Snarky Puppy, Stanley Jordan, The Main Squeeze, Kung Fu, Marbin, Naughty Professor, Stratosphere All-Stars, TR3 featuring Tim Reynolds, The Fritz, Progger, and Killiam Shakespeare, as well as South Florida's finest Roosevelt Collier and The Heavy Pets through a series of deep south and northeast runs.